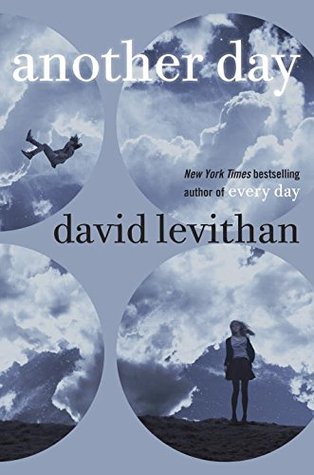 Every day is the same for Rhiannon. She has accepted her life, convinced herself that she deserves her distant, temperamental boyfriend, Justin, even established guidelines by which to live: Don't be too needy. Avoid upsetting him. Never get your hopes up.

Until the morning everything changes. Justin seems to see her, to want to be with her for the first time, and they share a perfect day—a perfect day Justin doesn't remember the next morning. Confused, depressed, and desperate for another day as great as that one, Rhiannon starts questioning everything. Then, one day, a stranger tells her that the Justin she spent that day with, the one who made her feel like a real person…wasn't Justin at all.

In this enthralling companion to his New York Times bestseller Every Day, David Levithan tells Rhiannon's side of the story as she seeks to discover the truth about love and how it can change you.
I suspect that many authors, in addition to developing their stories from the point of the view of the protagonist, also
explore their stories from the point of other major characters. I know I do. This allows the author to g
ive psychological depth to all the main characters
.
What they don't do is write a companion novel telling the story from the other person's point of view. Unless you happen to be David Levithan.
Is this self indulgent on the part of the author? Does it add enough to the reader's experience? The jury's out on that one, if you look at the reviews on Goodreads. I can't comment as I have not read Every Day - although it is on my Kindle. I am not sure I will read it now, which is not David Levithan's intention I am sure.
The concept behind both books is that the character A is a being who inhabits the body of a different person a day. In Every Day the story is told from A's point of view, in Another Day from Rhiannon's. On the day A meets Rhiannon he is in the body of Justin and he falls for her. I say "he" but A can inhabit the bodies of girls as well, and indeed of transgender people. This creates a strong driver of the story, but it also raises issues about sexuality and identity, and love as opposed to physical attraction. There is also the philosophical question about how much A's day in a person's body/life should impact on that person's wider life. Fascinating stuff, and this is a novel that leaves you pondering bigger questions. As this is a book for the YA market (although this 50+ reader didn't feel that this inhibited her enjoyment) that is something to be particularly welcomed.
The central character of Rhiannon is very well drawn. Her self esteem is not high and her relationship with the selfish and damaged Justin is lowering it. Encountering A in his various forms and falling for "him" allows Rhiannon to question her unhappy liaison's impact on her life. The philosophical questions in the book are therefore integral to the storyline.
Another Day is an interesting, thought-provoking and enjoyable book and I am grateful to the publishers for granting me a free review copy in return for a fair review.