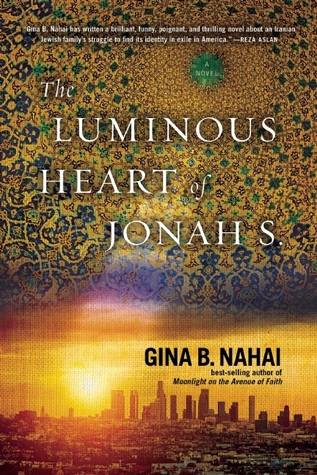 From Tehran to Los Angeles, The Luminous Heart of Jonah S. is a sweeping saga that tells the story of the Soleymans, an Iranian Jewish family tormented for decades by Raphael's Son, a crafty and unscrupulous financier who has futilely claimed to be an heir to the family's fortune. Forty years later in contemporary Los Angeles, Raphael's Son has nearly achieved his goal--until he suddenly disappears, presumed by many to have been murdered. The possible suspects are legion: his long-suffering wife; numerous members of the Soleyman clan exacting revenge; the scores of investors he bankrupted in a Ponzi scheme; or perhaps even his disgruntled bookkeeper and longtime confidant.

Award-winning novelist Gina B. Nahai pulls back the curtain on a close-knit community that survived centuries of persecution in Iran before settling and thriving in the United States, but now finds itself divided to the core by one of its own members. By turns hilarious and affecting, The Luminous Heart of Jonah S. examines the eternal bonds of family and community, and the lasting scars of exile.
Sometimes when I write reviews on this blog I have to make a case for or against the book in question being magic realism. This is not the case here. This is magic realism in the tradition of Gabriel Garcia Marquez and Isabel Allende. I was reminded of Isabel Allende's House of Spirits, with an upper-class woman persecuted by a man whose mind is twisted by hatred of the family that rejected his claims. The magic is however more obvious than Allende's: every decade or so, a child - ususally a boy in the family - was born with a glowing heart. Nahai's description of Raphael sleepwalking through the streets - the light from his heart attracting every moth and firefly and nocturnal bird in the city, plus an entire horde of restless insomniac ghosts - seems closer to the magic of Marquez' Macondo. Gina B. Nahai has however a strong and individual style of her own.
For starters there is the use of the murder mystery genre as a frame for the family saga. This works really well, providing an external observer in the form of the police detective (also an Iranian Jew) and using this most American of genres to contrast with the more magical and mythical world of pre-revolutionary Iran. Nahai is excellent at portraying both of these very different worlds. She does not romanticize the world of the last Shah. She shows how unjust it was and how corrupt. Raphael's Son's abuse of others and corruption is learned during a childhood full of impotent anger. Both in Iran and in America there is money to be made at the expense of people who naively believe that justice will prevail above the interests of those with power and money. This is a lesson Raphael's Son learns from the lips of the head of the Soleyman family: No matter what you may want or how badly - you must understand that in this country, at this time, you and your kind don't hold a prayer against the likes of me.
The other strong character in the book is Elizabeth Soleyman, who is innocent of any wrong done by the Soleymans to Raphael's Son and his mother, but who becomes the focus of Raphael's Son's campaign of hatred. Her experiences include the loss of all but one of her family, ruination and exile, and yet she survives.
But rather than just show this as a simple triumph, Nahai shows that
what doesn't kill you will nevertheless leave its mark...
Elizabeth learns to suppress her pain and longings, but in doing so seems cold to her daughter.
This book is not just a mystery story nor a family chronicle, but also a book about alienation. The Soleymans may be well-to-do when the story starts but they are Jews in the Shah's Iran. When they move to the US they are both Jews and Iranian. Nahai paints a moving picture of what it is to be forced into exile.
She explains how the Iranian exiles (like others the world over) soon learn that the hardest part of being an exile is the vanishing - not of the self but of its likeness in the eyes of others.

But for Elizabeth and her daughter the exile is doubly hard: they have to abandon the graves of the ones they lost... The dead and missing cannot cross borders; their exile is our forgetting.
Alienation is a recurrent theme in magic realism, closely linked to the other theme of dual cultures/worlds. This book could very easily have presented the worlds geographically. But Nahai is an altogether too subtle writer for that. There is harsh reality in Iran and there is magic (at the end of the book) in the US. She is quite simply a wonderful magic realism writer and worthy of the comparisons made at the beginning of this review.
I received this book free from the publisher via Edelweiss in return for a fair review.