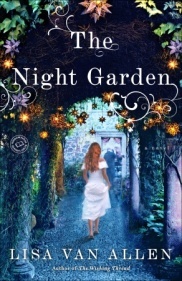 Nestled in the bucolic town of Green Valley in upstate New York, the Pennywort farm appears ordinary, yet at its center lies something remarkable: a wild maze of colorful gardens that reaches beyond the imagination. Local legend says that a visitor can gain answers to life's most difficult problems simply by walking through its lush corridors.

Yet the labyrinth has never helped Olivia Pennywort, the garden's beautiful and enigmatic caretaker. She has spent her entire life on her family's land, harboring a secret that forces her to keep everyone at arm's length. But when her childhood best friend, Sam Van Winkle, returns to the valley, Olivia begins to question her safe, isolated world and wonders if she at last has the courage to let someone in. As she and Sam reconnect, Olivia faces a difficult question: Is the garden maze that she has nurtured all of her life a safe haven or a prison?
From Goodreads description
There was something very familiar about this story. It is close to fairytales - a beautiful young woman is cursed by a magical gift that prevents her from accepting the man she loves. There is even a bit of Sleeping Beauty at the end. And like the modern fairytales (a la Disney rather than Grimm) you know even as you start to read that there will be a happy ending.
The book falls into a type that I have come across before on this blog.
There were obvious but not surprising similarities with the other book by Lisa van Allen that I have reviewed here
(The Wishing Thread)
and also
with
The House at the End of Hope Street by Menna van Praag. In the publisher's promotional material it is suggested that the book will appeal to readers of those by
Sarah Addison Allen, Aimee Bender, and Alice Hoffman. I don't know about Addison Allen, but the worlds of Bender and Hoffman are harsher than Van Allen's. As I have said before I like my magic realism with an edge, but Van Allen is clearly writing for an audience that does not share my preferences.
Those readers who like chick-lit magic realism will find much to enjoy here. The descriptions are lush (if with too many adjectives
for my liking

) and reflect the rich growth of the Pennywort magical garden in a world of drought-induced barrenness. This is in contrast with Olivia's life, which is spartan emotionally and restricted geographically. In fact all the main characters are in some way afflicted by an inability to feel and/or hold. Olivia's father has separated himself from the world by living as a hermit in a ravine, Sam literally cannot feel anything, having lost all sensation from his skin following an accident, and Olivia cannot touch those she loves without hurting them.
Olivia's curse creates some interesting challenges for the writer. How do you write a love scene when there can be no physical embrace? If you are Lisa Van Allen, the answer is very successfully: the scene is surprisingly sexy. And how do you bring about a resolution to the story? I gather from fellow Goodreads reviewers that not everyone was satisfied by the somewhat ambiguous answer to the latter question, but it didn't bother me. Indeed, despite my comments about its familiarity at the beginning of this review, the plot is not without a few twists and unexpected revelations, which are definite plus points as far as this reviewer is concerned.
If you want a book to curl up in front of the fire with, this might be the book for you.
I received this book free from the publisher via Edelweiss in return for a fair review.