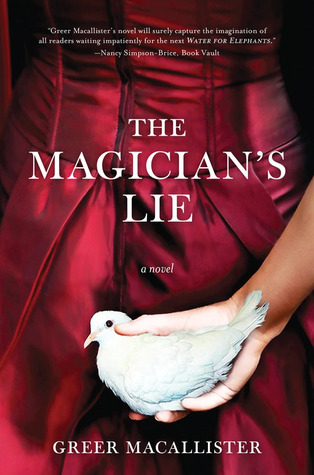 Water for Elephants meets The Night Circus in The Magician's Lie, a debut novel in which the country's most notorious female illusionist stands accused of her husband's murder --and she has only one night to convince a small-town policeman of her innocence.

The Amazing Arden is the most famous female illusionist of her day, renowned for her notorious trick of sawing a man in half on stage. One night in Waterloo, Iowa, with young policeman Virgil Holt watching from the audience, she swaps her trademark saw for a fire ax. Is it a new version of the illusion, or an all-too-real murder? When Arden's husband is found lifeless beneath the stage later that night, the answer seems clear.

But when Virgil happens upon the fleeing magician and takes her into custody, she has a very different story to tell. Even handcuffed and alone, Arden is far from powerless—and what she reveals is as unbelievable as it is spellbinding. Over the course of one eerie night, Virgil must decide whether to turn Arden in or set her free… and it will take all he has to see through the smoke and mirrors.
A central theme of this book is magic. No surprise there, given the subject matter. But magic realism? The reality of stage magic is shown in great detail. Greer Macallister takes us behind the illusion, behind the smoke and mirrors, and shows us the reality of the mechanics of the tricks - the false bottoms, the hidden ironwork, the sleight of hand and misdirection. And absolutely fascinating it is too. The story is located in real history - Arden's mentor in magic is the real historical figure Adelaide Herrmann "Queen of Magic" as Hermann's autobiography proudly announced.
Hermann is a wonderful character and the book really takes off when she arrives in Arden's life. Another highpoint in the book is a real historic event - The Iroquois Theatre Fire of 1903 in which over six hundred people lost their lives.
The author uses the magician's stock-in-trade - misdirection. Throughout the book the reader is not sure whether Arden's story is true or not. We, like Virgil Holt, swing between believing and not believing her. After all the novel is called The Magician's Lie and in the first chapter Arden states that Tonight, I will escape my torturer, once and for all time.
Tonight, I will kill him.
Misdirection takes all sorts of forms throughout the book and it is impossible to speak about them here without ruining the suspense for you.
The magic realist element in the book - Arden's ability to speed her body's healing - could also be a form of misdirection, but there seems to be some evidence from what Virgil sees that it is real.
Perhaps Arden's greatest ability is that of healing herself mentally. That is not to say the damage inflicted on her by her sadistic cousin, by the betrayal of the man she loves and by her mother's failure to stand up for her, do not scar her in some way, but this is one tough little lady. She is the type of strong, if flawed, female protagonist that I enjoy reading (and writing) about. In Arden and in Adelaide we have two women who forge a successful career at a time when this was an impossible dream for most women.
This should have been the ideal book for me in, as historical fiction and mysteries are favourite genres of mine and the novel has a strong female protagonist and yet I found it hard to get into and it wasn't until 40% of the way in (when Arden meets Adelaide) that I really engaged with the story. Perhaps, dare I say it, there was just so much misdirection that I couldn't engage with Arden's story until that point. My other misgiving is that after all that build-up the ending didn't really live up to my expectations. Nevertheless the book has a lot to offer the reader and is an exciting debut from a clearly talented writer.
I received this book free from the publisher via Netgalley in return for a fair review