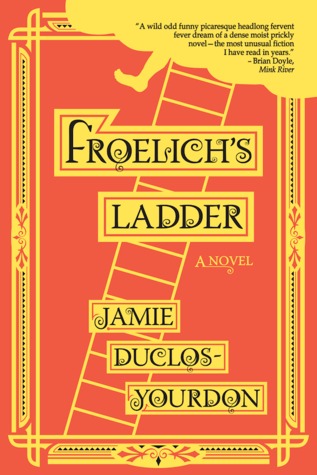 Uncle Froelich nurses a decades-old family grudge from his perch atop a giant ladder. When he's discovered missing, his nephew embarks on a rain-soaked trek across a nineteenth-century Pacific Northwest landscape to find him, accompanied by an ornery girl with a most unfortunate name. In their encounters with Confederate assassins, European expatriates, and a general store magnate, this fairytale twist on the American dream explores the conflicts between loyalty and ambition and our need for human connection, even at the highest rungs.
Goodreads description
This is a tall tale, literally in the case of the fourth highest ladder the world has ever seen. And it is in the tradition of American tall tales - Paul Bunyan, Johnny Appleseed, etc - a story form suited to the bravura of the frontier world in which Froelich's Ladder is placed.
After his brother takes the girl he fancies, Froelich climbs up the ladder in a huff and stays there, growing food between the rungs and communicating with his brother and then his two nephews by a sort of morse code. Then one day the knocking from on high stops: Froelich is missing and one of his nephews sets out to find him while the other props up the ladder.

The hunt for Froelich takes the central character and the reader into a wild west where the fanciful and the real exist alongside each other. Parents be warned: the story turns from picaresque folklore to the threat of sexual and/or physical violence at times.

One of the best things about this book is that it features two strong-willed independent female characters more than succeeding in a man's world. Something I always like to see.

Whilst the final resolution(s) seemed a bit rushed to me, this is an entertaining undemanding read.

I received this book free from the publisher via Netgalley in return for a fair review.